Web Hosting
A full range of web hosting services are available through Selser Media. By providing our clients with a single point of contact, we're able to simplify management of their online presence and eliminate the finger-pointing and blame game that often occurs when dealing with multiple service providers.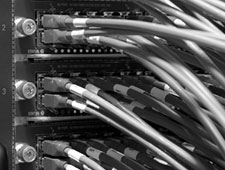 Selser Media leverages a select group of stable and qualified infrastructure partners to meet our customers' hosting needs. Founding partner Jeff Selser spent years designing and building secured data centers and networks for the automotive and telecommunication industries. With this extensive background in system architecture and security, Selser Media is able to quickly and effectively evaluate and choose a hosting service to best address the architectural needs of your online enterprise.
Web Hosting offers include
Shared Servers (Linux with MYSQL and SSD Drives)
WordPress Custom Hosting Packages
Virtual Private Servers (VPS - SSD)
Cloud Hosting Services - Vultr, Digital Ocean, Amazon AWS, Liquid Web
Dedicated Hosting Services
MySQL and MS SQL server database hosting
Outsourced E-Mail hosting
If you are unsatisfied with your current hosting provider, or need hosting as part of a new site launch, contact us today for a robust web hosting solution.