SEO / Search Engine Optimization
Looking for a Michigan search engine optimization (SEO) firm that delivers superior results? You found us. With extensive experience and a deep understanding of current best practices and SEO strategies, Selser Media is equipped to deliver new customers and prospects to your web site.
What is SEO?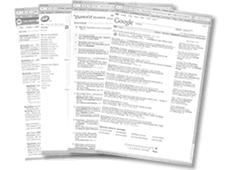 Search engine optimization or SEO refers to the process of developing or revising website content, structure and technology to maximize search engine ranking for target keywords and phrases. SEO is also referred to as Natural Search Engine Optimization or Organic Search Engine Optimization. These terms are meant to differentiate SEO from Search Engine Marketing or SEM strategies and practices that utilize online advertising and directories.
How Does SEO Work?
Entire books have attempted to explain how SEO works, but assuming you'd prefer to skip hours of geek-speak, we'll simplify and summarize.
First, a bit of search engine background. Contemporary commercial search engines such as Google or Bing utilize complex algorithms based on information retrieval. Originally, information retrieval systems were developed to deploy computer search functions for libraries, government labs and research institutions. The two most critical components of search functionality that emerged were relevance and popularity. Half a century later, relevance and popularity are still key factors in the algorithms of today's search engines. At the heart of each search engine company is a well-guarded secret formula used to analyze and rank online content based on its relevance, as well as the quality and number of links related to the searcher's query. SEO techniques involve developing or revising the site code, structure, navigation and content to maximize ranking.
Selser Media begins the SEO process by performing an in-depth analysis of the website to be optimized. There is no one-size-fits-all SEO solution. Each SEO strategy is customized for each particular site. The primary factors we analyze include:
Code
Although your website may be rendering or displaying correctly online, if the underlying code is outdated, depreciated or incorrectly deployed, your site's search engine ranking will suffer. Think of your site's code like the underlying structures of a building. Although a house may look perfectly fine from the outside, its outdated electrical system is a disaster waiting to happen. So it goes with web code. The World Wide Web Consortium (W3C) has developed technical specifications and guidelines to lead the web to its full potential. These W3C technical standards have been adopted by major search engines and sites built using code that doesn't meet W3C specifications are rapidly depreciating. We'll examine your site's code and recommend changes if needed.
Site Structure / Navigation / Taxonomy / Keywords
In addition to adopting modern technical specifications, you can boost your page rank by following the structural and navigational conventions that allow search engines to more easily and accurately analyze what the key topics of a particular page are. The placement of keywords on certain pages, such as a home page, or parts of a page, such as a title, are weighted more heavily by search engines. Selser Media will analyze your site's keywords, key phrases, site structure and page layout and recommend strategic revisions.
SEO & Content
Original, relevant content that is regularly updated is one of the fundamental keys to ranking well. We'll take a look at your site's content and recommend revisions and/or develop new content to improve ranking. The mantra of SEO experts is, Content is king. We'll make sure you understand the importance of your site's content and provide you with strategies to keep your content fresh and relevant.
SEO & Links
One of the fastest ways to improve your page rank is to have other relevant sites link to your site. All links are not equal. The quality of the referring link matters, the popularity, authority and degree of relevancy to your site are just a few of the factors analyzed by search engines. For example, if you had a website promoting your dog training services, your search engine ranking would benefit far more with a link from the American Kennel Club versus a link from Betty's Dry Cleaners. Selser Media will help you analyze the quality of existing links and develop a link-building campaign.
White Hat vs. Black Hat
The SEO universe borrowed these terms from old Westerns. Unethical, against-the-rules SEO strategies and practitioners are referred to as Black Hats. The good guys and their SEO methods are known as White Hats. Each search engine company clearly outlines in its terms of service agreement what is and isn't allowed. Because the ranking game has become so fiercely competitive, there are people out there who find ways to exploit loopholes in the various search engine algorithms. Winning the ranking game can be worth a lot of money and so naturally, there are cheaters. And some of the cheaters get away with it, for a while. The consequences of being caught can be pretty harsh. Sites caught utilizing black hat methods have disappeared from Google or Yahoo entirely. Because the stakes are so high, reports of violations are on the rise. Who squeals on the black hats? Their competitors.
We provide services that follow search engine guidelines. Our clients continue to perform at the top of the SERPS even when the search engines constantly tweak and update their algorithms.
Do I Need an SEO Firm? My Ad Agency Offers Search Engine Optimization
Advertising agencies and conventional marketers jumped on the search bandwagon very late in the game. As a result, there is an industry-wide panic among advertising and marketing professionals trying to get in the SEO market. Larger agencies are buying up SEO firms, while smaller agencies are frantically trying to recruit SEO staff, but the underlying problem is that many advertising agencies still don't understand search at a fundamental level. How can we tell? By looking at the websites they build. Time and again, we've seen expensive, agency-built sites that emphasize imagery and visual branding while ignoring fundamental search strategies. In the end, agency clients often spend a lot of money for visually sophisticated sites that their target audiences can't even find.
The Selser Media Difference
Natural or organic search works best when factored into a website's design from the ground up. In other words, web developers and marketers who truly understand SEO incorporate those principles into every website design. At Selser Media, we begin with an in-depth analysis of your marketing goals and target customers. Armed with a thorough understanding of your business and potential customers, we develop a strategy to meet your needs and budget.
Need to improve your site's search engine ranking?
Call or contact Selser Media today!