Search Engine Marketing Services
What Is It?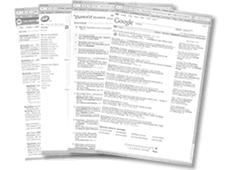 Search Engine Marketing or SEM, refers to the various search engine-based marketing and technical strategies employed to increase the traffic to and visibility of a website.
Selser Media provides a full range of Search Engine Marketing services including:
Cost Effective Marketing
Research shows that up to 80% of online customers use a search engine to research a product or service they are interested in. These searchers have entered the buying cycle; they are looking for information to meet a current or projected need. Utilizing SEM, your marketing message is delivered at the precise moment these self-qualified consumers initiate a query. This targeted, non-intrusive method of marketing is unique to the web and when effectively implemented, can yield significant results.
According to a study by Piper, Jaffray & Co, search marketing provided the best advertising value compared to other methods such as direct mail, yellow pages ads or email campaigns.
How Search Marketing by Selser Media Can Help
The online advertising medium is multi-faceted and constantly changing. The growing demand for search marketers means that often even large, conventional advertising agencies don't have experienced search marketers or search optimizers on staff to manage their clients' online enterprise.
Small and mid-size business owners can save themselves a lot of money and frustration by hiring the experienced professionals at Selser Media to create and manage a strategic search marketing campaign.
How the Process Works
We begin by performing an in-depth analysis of your website, its structure, content, traffic and patterns. Once your site's marketing goals and priorities have been clearly defined, we'll create and implement a campaign that meets those objectives and your budget. During the campaign, you'll receive regular, in-depth reporting providing you with clear data on increased visitor traffic, conversion rates and return on investment.
Successful search marketing requires persistence, time and the guidance of an experienced professional.